Finally
we are mostly unpacked and I have some decent pictures for you. The only pictures I don't have are of the second bedroom because it's a little messy right now since we're using it for storage and the stuff we haven't had time to unpack yet, and of our bathroom because it's too small to take any decent pictures. But here's the rest! :)
Our stove/cabinets
We have lots of cabinet space...which is not even remotely close to being full
Sink, dishwasher (thank God!)
Pics in the living room. Left: World series tickets, Right: Audrey (because Chris loves me enough to hang it up)
Recliner and futon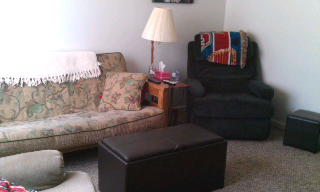 Other recliner
Bookcase with all of our dvds, tv, and coat rack

Main bathroom
picture hanging in main bathroom
dresser and tv in bedroom
Other dresser, and you can't really see it, but the pic above it is of old Busch Stadium
Our bed and nightstands
Front of our house, complete with a Cardinals chair from my dad and a Woody and Rizz Suck It 2012 sign (which I had to wait in line for about an hour to get!)

I believe this weekend we'll be getting curtains for our living room and hopefully we'll have a washer and dryer this week sometime. So I'll update and add more photos as we slowly continue to decorate and whatnot. Also, we still don't have internet. But it should be installed sometime on Friday. Fingers crossed for that because I've got a paper to write.
I love our place though. I'm so so happy we found it!
I still haven't made my way out for a run yet though :/ I definitely plan on going this weekend though. I'm hoping for Saturday and Sunday, but we're going Sunday for sure because Chris is off work and I won't get lost alone lol.